I just learned about Knitting & Crochet Blog Week earlier today & decided to throw my hat into this ring while I'm in a blogging mood. I've got some work lined up for this week so I certainly can not guarantee that I'll be able to participate every day but I'm off to a strong start!
All participating bloggers receive a theme to write on each day & today's theme is Colour Lovers.
From the KCBW website: Colour is one of our greatest expressions of ourselves when we choose to knit or crochet, so how do you choose what colours you buy and crochet or knit with. Have a look through your stash and see if there is a predominance of one colour. Do the same with your finished projects - do they match? Do you love a rainbow of bright hues, or more subdued tones. How much attention do you pay to the original colour that a garment is knit in when you see a pattern? Tell readers about your love or confusion over colour.
Quite a big topic, right? So to start with, I find myself drawn to different colors depending on the season, the weather, my location & what's trending in knitwear. For example, over the winter I couldn't get enough of chunky grey knits. I didn't actually knit anything like that because I already had a bunch of stuff on the needles but every time I saw a project that fit that description I wanted to cast on for it immediately. Never mind that I live in the world's greyest climate for most of the year so there's no good reason I should want more grey. I just did. In the fall, I find myself knitting with oranges & burgundies. Now that's springtime, I've got something blue on the needles (more on that in a future post). In fact, I think the only colors I avoid are black & white. I've already got so much black in my wardrobe, it just does nothing for me on the needles.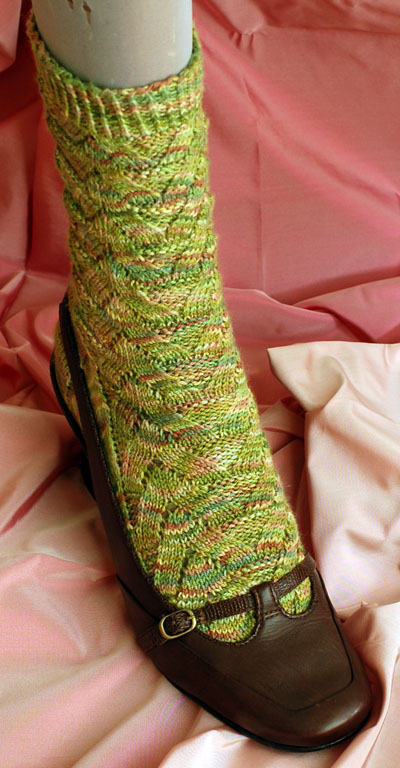 Photo from Knitty by Cookie A.
I love yarns with subtle color shifts, like semisolids & tonal yarns such as
Knitpicks' Swish Tonal
. I'm currently obsessed with the colorway that Cookie A. used to knit her
Monkey socks
from Knitty, Winter 2006
. It's the perfect variegated yarn: it has great depth without being too busy & it doesn't conflict with the pattern. This is one of the only patterns that I want to knit in the exact yarn the designer used. Usually I like to pair a project with a yarn in my stash or I like a pattern but prefer a different colorway. But for this project, I think Cookie chose the perfect combination of pattern & yarn.
Photo from Ravelry by Jacks1080.
Another project that has been on my mind for a few years is the Indigo Banded Cardigan by Cecily Glowik MacDonald from Knitscene, Fall 2009. I was visiting my family in NY when this issue came out & I positively scoured the Hudson Valley looking for a copy of it. This project immediately stood out as something I must knit but the colors just don't appeal to me. So I filed it away in the back of my mind for a while until I'd finished my Highland Park Hoodie & realized that I wanted it to be my next sweater. So I looked through all the projects on Ravelry & was amazed by how many people had knitted it in the original colors. Jacks1018 however had knit it in a cozy combination of chocolate brown & pale blue, which created exactly the look I wanted for this sweater. When I get around to finally casting on for this sweater, I'll either use these colors (I already have a great blue in my stash) or I'll change out the blue for a pale green, also in my stash.